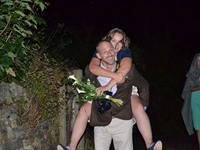 Sarah and Dave.
Sarah and Dave have just taken on The Kings Head after careers in other professions. Both were police officers with Humberside Police until September 2016 and worked in the Roads Policing Unit as Traffic Constables. Sarah worked on the cars and Dave, alongside working on the cars from time to time, spent the majority of his time on police motorbikes. After many years in the police, both decided it was time for a change and so decided to leave and take on a new challenge in the pub trade.
New to the pub trade, they are enthusiastic and committed to making your time spent with them a memorable occasion.
Dave is a keen runner and cyclist and revels in the area which surrounds the pub, as does the older of their two Labradors, Larry who loves to go out with his dad on some of the runs. Dave is also your cook for your stay as well as helping out behind the bar and doing the cellar work.
Sarah loves walking with both dogs in the area and is the smiling face that will greet you and show you your room.
Both love being in the pub and chatting to customers as well as making sure you have what you need to make your stay as comfortable as possible.